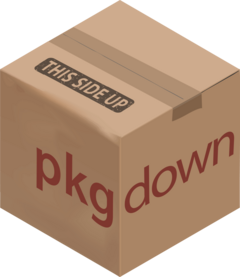 Changelog
Source:
NEWS.md
pkgdown 2.0.2
CRAN release: 2022-01-13
pkgdown 2.0.1
CRAN release: 2021-12-03
pkgdown 1.6.1
CRAN release: 2020-09-12
The article index (used for autolinking vignettes across packages) once again works (#1401).
pkgdown 1.6.0
CRAN release: 2020-09-07
Major changes
pkgdown now uses the new downlit package for all syntax highlighting and autolinking (in both reference topics and vignettes). There should be very little change in behaviour because the code in downlit was extracted from pkgdown, but this makes it easier to use pkgdown's nice linking/highlighting in more places (#1234).

pkgdown now uses the ragg::agg_png() device to generate example figures. This should be a little faster and produce higher quality output. Learn more at https://ragg.r-lib.org (#1320).
pkgdown 1.5.1
CRAN release: 2020-04-09
pkgdown 1.5.0
CRAN release: 2020-03-25
New features
The articles index page and navbar have been overhauled. There are two major new features in this release:

The articles index page now displays article descriptions, taken from YAML metadata belonging to each article. This lets you provide more context about each article and describe why one might want to read it (#1227).

The articles navbar is now also controlled by the articles section in _pkgdown.yml. The ordering of the sections, and articles within them, control the order of the articles in the navbar, and you can use the new navbar field to control whether or not each section appears in the navbar (#1101, #1146).

The reference index now has two levels of heading hierarchy: title and subtitle (#327).

Tables of contents in sidebars now use bootstrap-toc; this considerably improves navigation for long articles and reference pages.

You can now control the links to source files (in reference pages and articles) and issues and users (in the NEWS) with new repo$url config option (#1238). This makes it easier to use pkgdown with GitHub enterprise, packages in subdirectories, and other source hosts (like bitbucket).

repo

:




  

url

:




    

home

:

 https://github.com/r-lib/pkgdown/




    

source

:

 https://github.com/r-lib/pkgdown/blob/main/




    

issue

:

 https://github.com/r-lib/pkgdown/issues/




    

user

:

 https://github.com/

The individual components (e.g. path, issue number, username) are pasted on the end of these urls so they should have trailing /s.

You don't need to set these links for GitLab, as pkgdown now detects GitLab urls automatically (since they use the same structure as GitHub) (#1045).

There's much richer control over Open Graph and Twitter metadata for the whote site and for individual articles. See new vignette("metadata") for details (@gadenbuie, #936).

New deploy_to_branch() function to build and deploy a site to a branch, defaulting to gh-pages for use with GitHub Pages. This is used in our recommended GitHub action workflow for automatically building and deploying pkgdown sites for packages on GitHub (@jimhester, #1221).

Updated JS libraries: jquery 3.3.1 -> 3.4.1; bootswatch 3.3.7 -> 3.4.0; bootstrap 3.3.7 -> bootstrap 3.4.1; docsearch 2.6.1 -> 2.6.3; fontawesome 5.11.1 -> 5.12.1; headroom.js 0.9.44 -> 0.11.0; clipboard.js 2.0.4 -> 2.0.6 (@jayhesselberth).
Auto-linking improvements
pkgdown 1.4.1
CRAN release: 2019-09-14
Don't install test package in user library (fixes CRAN failure).
pkgdown 1.4.0
CRAN release: 2019-09-03
pkgdown 1.3.0
CRAN release: 2018-12-06
Restore accidentally deleted build_logo() function so that logos are once more copied to the website.

Fix to pkgdown.css so page header has correct amount of top margin.

content-home.html template is no longer used when the homepage is an .Rmd (Reverts #834. Fixes #927, #929)

deploy_site_github() now passes parameters to build_site() (@noamross, #922), and the documentation gives slightly better advice.

Correct off-by-one error in navbar highlighting javascript; now no navbar is highlighted if none match the current path (#911).

Restore accidentally removed docsearch.css file.
pkgdown 1.0.0
CRAN release: 2018-05-03
Major refactoring of path handling. build_ functions no longer take path or depth arguments. Instead, set the destination directory at the top level of pkgdown.yml.

Similarly, build_news() no longer takes a one_page argument; this should now be specified in the _pkgdown.yml instead. See the documentation for an example.